About Us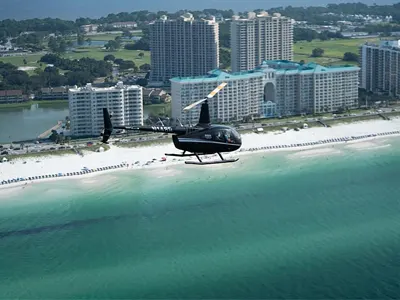 Destin is a leading provider of thrilling helicopter tours in the beautiful Emerald Coast region. Situated in the stunning city of Destin, Florida, our company provides an unforgettable aerial adventure showcasing this coastal paradise's breathtaking beauty.

We understand that our guests seek an exceptional experience, and we strive to exceed their expectations. Our team of highly trained and experienced pilots ensures your safety while delivering a smooth and enjoyable flight. We prioritize your comfort and ensure you have the best seat for awe-inspiring views.


Why Chose Us?
What sets us apart is our wide range of tour options tailored to suit every preference and interest. Destin operates helicopter tours out of Emerald Coast, Orlando & Kissimmee, and Galveston. Explore the stunning coastline with our coastal tours, where you'll witness crystal-clear waters, pristine white sand beaches, and picturesque coastal landscapes from a unique vantage point. Immerse yourself in the beauty of the seaside as you soar above the waves, taking in the panoramic views of this idyllic coastal paradise.

For extra excitement and wonder, join us for our Dolphin Runs tour. In Orlando, you can take in the wonders of Disney World and more. Galveston helicopter tours are equally popular. Marvel at the playful dolphins as they frolic in the emerald waters, creating lifelong memories of this incredible encounter. It's a truly magical experience that will leave you in awe of nature's wonders. Come experience the magic with Destin!

And if you're seeking an unforgettable evening adventure, our Fireworks tour is the perfect choice. Soar high above the city as the night sky illuminates with a spectacular fireworks display. Watch as the colors burst and dance in the air, creating a mesmerizing spectacle that will leave you breathless.